Save time and money with windshield repair
Repairs are completed in 45 minutes or less
No waiting period to drive the vehicle after the repair is completed
Covered 100% by your insurance company in most cases
Save 75% of the cost by repairing vs. replacing your windshield.
Repairing auto glass does not take a lot of time thanks to the tools and technology that Plymouth Glass & Mirror utilizes. In less than 45 minutes, a windshield repair can be completed and have you back on the road again. In most cases, your insurance company covers a windshield repair 100% without costing you any money. Without insurance, your cost is significantly less with a windshield repair vs. a replacement as well-About 30-50% of the cost of a new windshield installed! You'll want to have the damage inspected to determine if your window is repairable or not. This will require one of our professional technicians to inspect the glass and evaluate the extent of the damage. Make sure to never allow even the smallest issue with auto glass go unchecked since the smallest cracks and chips can become big problems relatively quickly. Once they become a large crack, it can be dangerous to drive and the cost to fix the issue can be a lot more expensive.
Windshield repair is a cost-effective alternative to windshield replacement
Plymouth Glass and Mirror offers windshield repair in Hartford, Waterbury and surrounding cities and towns as a cost effective option when you aren't in need of an entire windshield replacement. Windshields can often be repaired when the damage is addressed quickly and the damaged area is small enough. Did you know that in some cases, windshield chips up to a quarter in size can be repaired? By exposing the damaged windshield to road grime, water from rain or car washes, or even changes in weather, you increase the chance that the damage will spread and a windshield replacement will be required. Because it does not require the removal of the windshield ensuring the original manufacturer's warranty.
Don't drive unsafely! Our mobile glass repair unit will come to you.
Our mobile Plymouth Glass & Mirror CT windshield repair units will be dispatched to you quickly and can repair the windshield crack or chip at your home or workplace. No matter where you are, from Danbury, Middletown, New Haven, Torrington, Waterbury, Bristol, Farmington, Avon, West Hartford and all areas of Connecticut let Plymouth Glass & Mirror save you money by repairing your windshield before the damage gets worse! Call our experienced team today for mobile windshield repair services.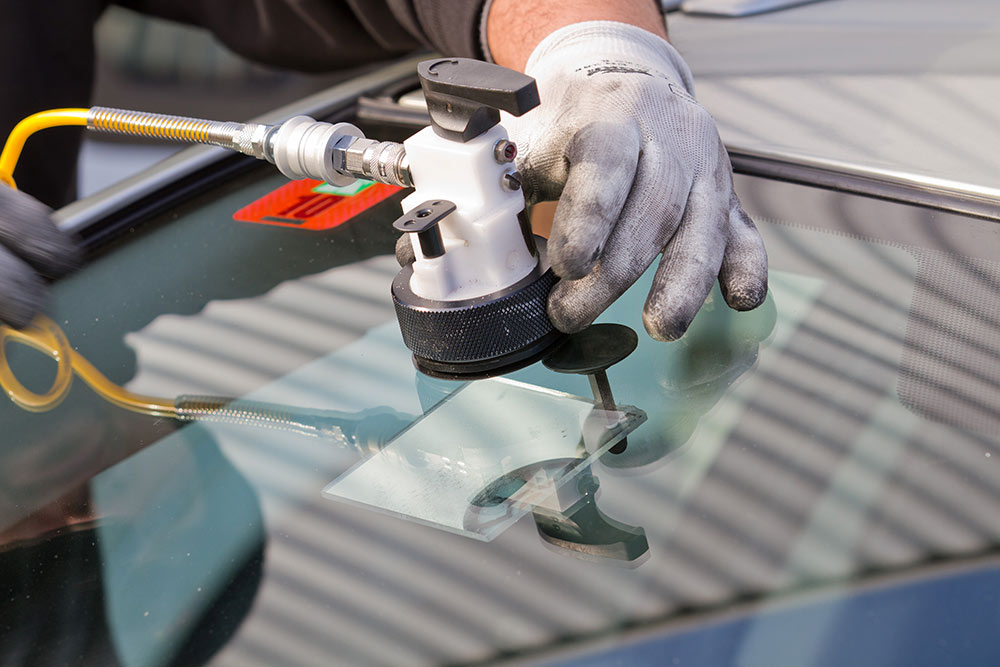 Our windshield repair process
A windshield repair technician closely inspects the damage to the windshield.
A certified technician carefully uses a carbide tip probe to remove all the loose glass particles from the damaged area and then cleans the area with a dry cloth.
After mounting an adhesive seal to the windshield and pressing down to ensure a good bond, a pedestal is mounted to the adhesive base where the windshield repair will be completed.
The technician will then place the UV resin into the pedestal.
After allowing the resin time to dry, the technician will remove the device and wipe away excess resin present at the windshield repair site.
A piece of mylar, a specialized plastic film, is applied over the repaired area and smoothed out with a razor blade.
A UV curing lamp is placed over the windshield repair area for approximately 5 minutes to allow the resin to harden.
What's the science behind a windshield repair?
Every day thousands of windshields are damaged in Connecticut by flying rocks or other road debris. When an object strikes the outer layer of the windshield with sufficient force, it can cause a small hole on impact. This permits air to enter the damaged area. This air space creates a diffusion of light, resulting in and obstruction of vision. The objective of this windshield repair system is to penetrate the glass surface through the pit of the break with a transparent liquid resin. The resin replaces the entrapped air, cures, and restores visibility, since it has the same index of refraction as the glass. The resin once cured also bonds the loose glass within the damaged area. In most cases, the windshield repair will not be totally invisible, however, at least 90% of the optical diffusion will be eliminated, restoring transparency and preventing further cracking.
Schedule an auto glass repair appointment if you see any of these common damages:
Bull's Eye – Looks like a circular, cone shaped indent on the outer layer of the glass 
Chip – A piece of glass that is missing
Crack Chip – A single crack that is smaller than the size of a quarter
Half Moon – Similar to a bull's eye, but not completely circular
Stone Break – A small chip that happens when a stone hits the windshield but becomes a larger crack over time
Long Crack – A crack that is over 6" in length
Pit – An area where a piece of glass is missing
Although there are many circumstances where an auto glass repair will be effective, there are some situations that warrant a complete auto glass replacement. Our professional auto glass technicians can help determine whether we can complete an auto glass repair, or if your windshield should be replaced.